Early Years teaching: the key to teacher and pupil development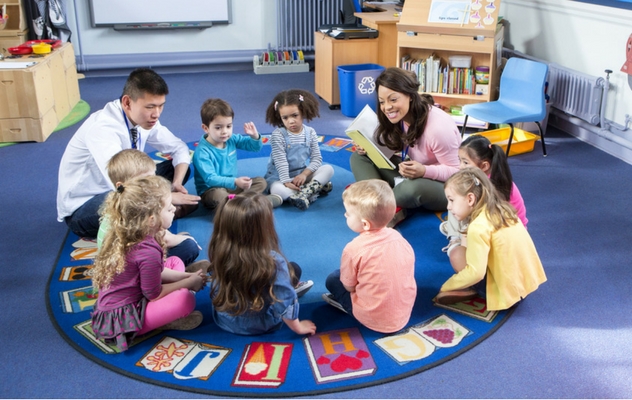 The Early Years classroom in a primary school is usually that strange colourful space at the end of the corridor where the chairs are so small and there seems to be so much going on at any one time that for the untrained observer it can seem like chaos.
I know it was in my school and I was a little scared of venturing there as I really didn't understand what was going on.
My only experience in Early Years teaching had been working with our school-centred initial teacher training (SCITT) pupils when I observed their teaching in Early Years Foundation Stage. However after 12 years as a key stage 2 teacher I was asked to teach a foundation stage 2 (FS2) class the following year.
As September approached, I spent a few immersion days in my new classroom and the fear started to hit home. What would I do with these children? How was I meant to teach? Support learning? What would they be learning? I was lucky in that I had a fantastic experienced FS teacher to work with and two wonderful teaching assistants who were such an amazing support for me in those early days.
I had worried about my knowledge of the Early Years curriculum, how to teach phonics and mathematics, when to start reading books etc. All those tasks were of course important but as the weeks progressed I found that the key to the best learning in the early years was to listen to the children and support them in their own discoveries.
The children come into school with so many different learning experiences. Some have been at nurseries where they have worked with a qualified teacher and are used to a degree of structured learning, others may have had little to no prior experience of letters, numbers and structured play.
I have always been a teacher who let the children explore, suggest their own enquiries and follow their own interests and this I found was the key to my new class. Follow their interests and find the learning in any situation.
A phonics fishing game with magnets turned into a whole class investigation into what we could 'stick' the fishing rods to. Then some children started to investigate what they could pull with the rods and how far.
We concluded the chairs were too heavy but the cars from the garage were easy to pull. Was it the wheels that helped I asked? One of the children suggested we try some cars without wheels. They would have been happy to remove the wheels from all my cars but I suggested perhaps we had other things that were of a similar size and material but didn't have wheels. We tried the boats on the carpet. The little ones moved, the larger ones didn't.
Another child then took the boats and cars and put them in the water tray pulling them with the magnetic rod. Was it easier than on the carpet? A lesson that started with the children finding phonemes changed to an exploration of magnets and then onto friction. Did the children feel challenged by the science? No, they were leading the learning by exploration and I acted as a facilitator by questioning.
Over my time in FS2 I picked up many strategies for engaging the children and how to teach phonics, reading and early mathematics.
I have always been a teacher who let the children explore, suggest their own enquiries and follow their own interests and this I found was the key to my new class. 
I also watched my children learning more than I had ever done in previous years. I saw them make connections and explore contexts. I saw where they made misconceptions and how to support them to challenge these.
Watching the children make their first strides in developing early mathematics made me acutely aware of why my Year 6 children sometimes struggled with certain ideas. If all you have learnt is a pattern for counting numbers then someone removes the pattern what do you hang your hat on? Having a bank of ideas where the children can practice their skills over and over again but in different contexts was invaluable.
I would highly recommend that all teachers spend time in the Early Years Foundation Stage. It can seem a bit chaotic at times and that the teachers are not actually teaching but if you watch them closely they are constantly reacting to the learning happening in the classroom and planning the next steps for the children.
You may also be interested in...