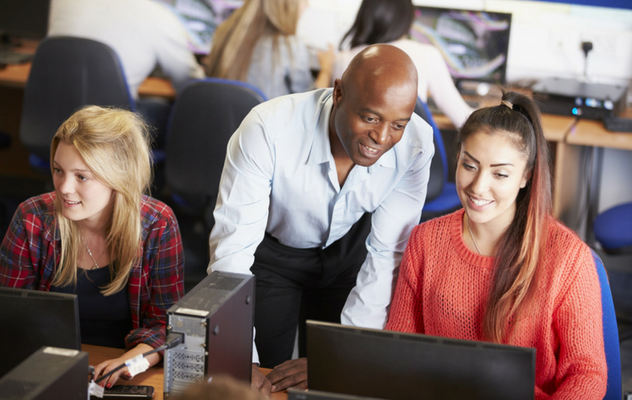 This September, lots of you will be diving into computing at the deep end. Don't worry, there's tonnes of help available to stay afloat.
As computing continues to replace ICT in secondary schools across the country, some of you will be teaching computing for the first time in the new academic year. This varied group of newbies brings different teaching experiences and subject specialisms, and may be timetabled to teach only one or two computing groups among lessons in other subjects. Abstraction and decomposition may be terms shrouded in mystery, and programming largely an enigma.
Others, with some key stage 3 computing experience under their belt, will be stepping up to teach GCSE computer science as the subject grows in popularity. This might be their first experience of teaching complex textual programming. Confidence in an ability to teach computation, networks, algorithms and other theory at this level is shaky, and their ability to stretch the most successful learners is limited.
Another group of teachers, with experience of teaching just a handful of GCSE computer science classes, are now making the leap to A level as their school evolves its curriculum offer. Parts of the specification look a little alarming, stretching their knowledge to the limit and challenging them to teach engaging lessons in unfamiliar curriculum territory. They, and their school leaders, are keen to see rapid success in the subject.
If any of these situations seem familiar to you then be assured – you are not alone. In the short time since the big curriculum change of 2014 many thousands of teachers have walked this route to confident teaching, and many more will follow in the coming years.
Lots of teachers have been helped along by our suite of professional development activities, led by highly experienced teachers with years of subject teaching behind them.
"It is a really good way of getting up to speed in a limited time" – New to teaching GCSE computer science
"The presenter's A level knowledge was excellent and he delivered a lot of useful and practical information" – New to teaching A level computer science
Find out more about these activities, and what previous participants had to say:
And to help you get started right away with your planning, take a look at our hand-picked teaching resources from key stage 3 through to A level here.
Good luck and remember that we're always here to help!