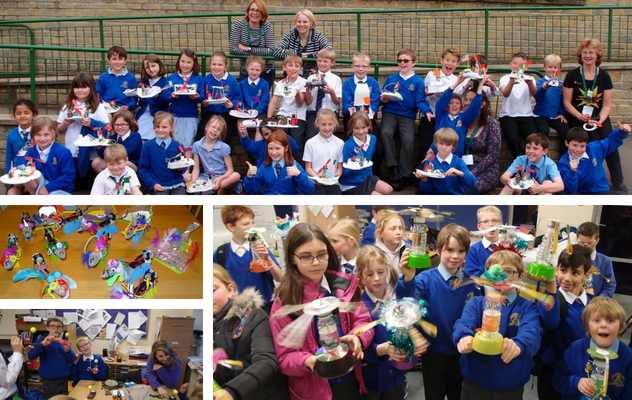 Growing up, my father and brother were both engineers, so we were always having fun designing, building and fixing things. When I came to choosing a career, I wanted one that I would enjoy and be good at, that would be useful to society, something practical and creative but also challenging. Engineering was really my only option!
I studied engineering at Cambridge University and spent 24 years in industry as a design and development engineer.
When I took a career break to spend more time with my children, I started a STEM Club at their school to pass on my enthusiasm for science and engineering. Every week I came up with a new, exciting design and build project for them. They loved it, and before long there were more children on the waiting list than in the actual club.
"Absolutely brilliant! The children's squeals of delight when they launched their boats was a moment not to be missed. The children said they had 'the best day ever'. They were talking about streamlining and modifying their models and were obviously gripped by the experience." – Headteacher
To make the projects accessible to more children I started writing the 'Technology for Fun' series of books with detailed instructions on how to complete our favourite projects. More people came to hear about me, and I got invited to run teacher CPD and workshops for STEM Ambassadors, to help them run the projects in school and relate them to the science and design and technology curriculum.
I still run the STEM Club at my local school, assisted by the original club members who are now sixth formers. Most of the former members are now planning to go into STEM careers.
The best thing about running the STEM Club is the enthusiasm of the children who attend, and the wonderful ideas they come up with. It's also great to see the way my sixth form students have developed in skills and confidence over the years, acting as mentors to the younger children.
As well as running workshops for children, I am increasingly invited to run training sessions for teachers and for STEM Ambassadors, which is wonderful because it allows me to reach many more children that way.
I also create STEM class packs with comprehensive supporting literature, to make it as easy as possible for teachers and STEM Ambassadors to run really fun design and build activities.
Share your STEM story
As the academic year draws to a close, we want to celebrate your achievements. If you have an inspiring story that you would like to share, we'd love to hear from you.