Bringing engineering into the primary classroom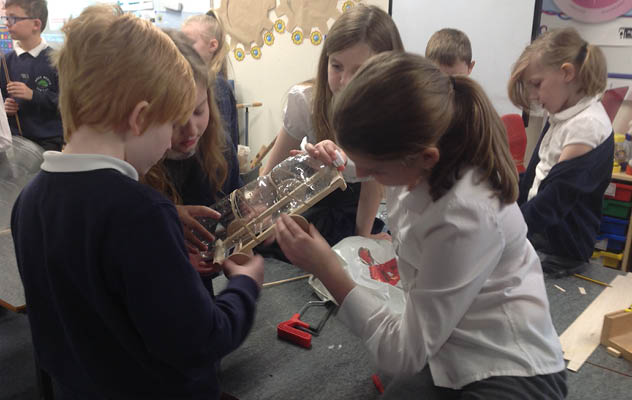 There is definitely a buzz around Rode Heath at the moment and I can't help feel that it has something to do with our engineering project…
One of the most important ways of engaging children in their learning, is to make it fun and purposeful. At Rode Heath, we are achieving that through our Think Like an Engineer way of learning!
Back in October, with the help of Professor Danielle George MBE, we decided to make engineering a key focus of our curriculum. By introducing children to the Engineering Habits of Mind (EHoM) developed by the Royal Academy of Engineering, we encouraged them to approach problem solving in a very positive way and see failure as an important stage on the road to success.
The language of EHoM: systems thinking, problem finding, creative problem solving, adapting, improving and visualising is now articulated regularly in our lessons and the children are reflecting on when and how they are using these engineering skills.
Much of our learning is hands-on and project-based and this is already beginning to have a real impact on children's questioning skills and their ability to communicate ideas effectively. They have a vested interest in listening to each other's views, as they are learning that this produces the best results. Not only that, but by providing each class with activities that are based on real-world technologies, we are helping the children to appreciate how subjects such as mathematics and science have a real relevance to their lives.
Just to give a few examples: the Year 2 pupils have been thinking about how young children can be encouraged to clean their teeth; the Year 5's are trying to design headsets to enable them to experience virtual reality on the school iPads and the Year 6 pupils are thinking about how they can improve the furniture in their classroom.
What is really exciting is the reaction from engineering companies. Wisdom Toothbrushes have agreed to judge and award prizes to the Year 2's for their toothbrush designs; Daresbury Laboratory are helping with prototyping the headsets and Siemens are taking the winning Year 6 designs and recreating them in their VR cave in Congleton. There is a tremendous amount of valuable support out there – you just need to ask.
All this may sound like extra work, in an already hectic schedule, but we are finding that it is possible to incorporate these activities into an existing curriculum, and the bonus of the opportunities it offers to develop mastery in many areas, outweighs most perceived problems.
About the author
Julie Wiskow is a teacher at Rode Heath Primary School in Cheshire and will be presenting on our Teaching engineering in the primary classroom CPD. Taking place in June, this CPD will give you the confidence to use engineering as a context for your lessons. Use code PRIVAT100 to get 100% discount on the activity fee.