From aspiration to inspiration: our STEM Club journey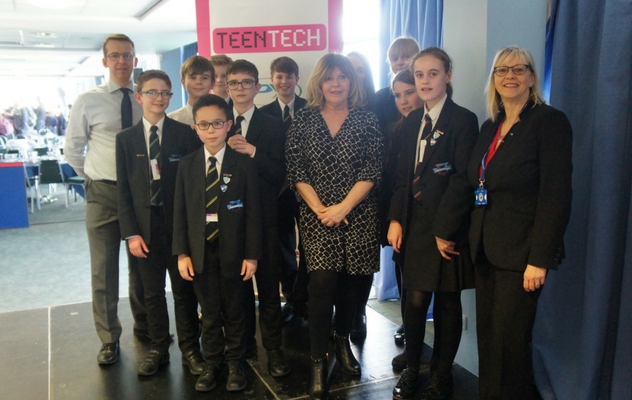 When a parent tells you they chose your school because of the STEM Club it makes all that hard work worthwhile! 
Our STEM journey started four and a half years ago. I got to school one morning and was asked if I could accompany a trip at short notice. They were going to a STEM fair – I had no idea that it was about to change my life! 
It was snowing, freezing cold and, when we got there, most of the schools had cancelled. However, it was brilliant! Our Year 9 students rotated around the different hands-on workshops and learnt all about STEM careers.
In the meantime, I spoke to everyone: the exhibitors, the organisers and, most importantly, David Wilkinson our local STEM coordinator from Leeds University. Immediately I was hooked and saw a massive gap at our school where students were missing out on opportunities. I did a bit more homework, spoke to a few more people and in September 2013, our STEM Club was born.
Four years later and our STEM Club is the most regularly attended club in school - our members are loyal and enthusiastic students. We have a mixture of all ages and abilities and are starting to grow our female cohort. We are also the only extra-curricular club to have a presence at the school's open evening where we are always extremely popular.
I won't say it's been easy, it is down to a lot of hard work out of school, looking for ideas and always keeping an eye out for interesting news stories to discuss with the students. We have a weekly news section at the start of our club where we watch videos and discuss current topics e.g. gravitational waves, Cassini, drones, STEM careers, Crosslink, etc.
What is the reason behind your success?
If you ask the students they will say it's because they get to do fun stuff they don't do in lessons! Experience has taught us not to try and do too much. We now offer specific projects that students can sign up to, for example, First Lego League, Teen Tech, CREST Awards, Talent 2030 and the Catapult Challenge. 
"Our STEM Club is the most regularly attended club in school - our members are loyal and enthusiastic students."
In between these projects, we slip in other events and challenges such as "I'm a Scientist Get Me Out of Here", making mini rockets for Guy Fawkes and bath bombs as Christmas presents. In addition, we try to get them on trips and events out of school such as the Rotary Challenge, Big Bang Near Me Fair, finals/heats for competitions, Teen Tech at Doncaster and STEM one-off events at local universities. We also have a STEM day at the end of each academic year where all students in the school take part in a STEM activity amongst other workshops as part of a fun day.
How do you promote STEM in your school?
That is a little more difficult. Not all students want to or can attend STEM Club. Therefore the messages come through form time notices, assemblies, the Head's weekly blog, our STEM day in the summer and word of mouth. 
I believe that most, if not all, students in our school can identify what STEM stands for which we are very proud of, but generating the interest for STEM careers in key stage 4 can be more challenging. It is important to start teaching students about STEM in Year 7 and try to embed the message of STEM careers. 
There is such a shortage of students taking STEM careers and such a vast range of different paths they can take, so we must endeavour to make that link at an early age between achievement and the possible careers they can follow.
What advice would you give to others who are considering setting up a STEM Club?
If you are thinking of setting up a STEM Club then just do it! Try to get a couple of staff members to help you, teachers, support staff, STEM Ambassadors - whoever has the time. 
It is extremely time consuming but also extremely rewarding and has a positive impact on students' learning and attitude in lessons. I have received many positive comments from teachers about the difference in ability from the STEM Club students compared to others, even with Special Educational Needs (SEN) students.
The icing on the cake is when the parents tell you how STEM has helped their child to succeed, whether it be confidence building or finding the correct career path. I hope that our STEM Club can continue to grow and offer opportunities to our students for many years to come!
Find out more
Whether you already run a STEM Club or are looking to set one up, our website is home to plenty of inspiration.