There are more routes into a STEM career than many people realise. After leaving traditional education aged 14, George Garner studied engineering alongside his GCSE's before taking an apprenticeship. He now works for Cavendish Nuclear and volunteers as a STEM Ambassador, and in 2020 George won the Cavendish Nuclear STEM Award. We take a closer look at his path into engineering and how George is passing on his enthusiasm for engineering to other students.
George started his career when he left traditional education at the age of 14, taking a risk he joined Future Tech Studio School (FTSS) where he studied engineering alongside the traditional GCSE's. During his time at FTSS George carried out a range of work placements including working within a primary school setting, a manufacturing setting and within the nuclear industry. At 16 George decided he wanted to carry on with his aspiration to be an engineer and did this in the form of a maintenance engineering apprenticeship, while studying a level 3 in engineering at UTC Warrington.
Upon completion of his engineering qualification, George decided that he wanted to move into the nuclear industry where he successfully obtained a role as a Project Management Apprentice at Cavendish Nuclear. George has now been with Cavendish Nuclear for just under 3 years and in this time has also taken on the role as Chair for their Youth Voice Network.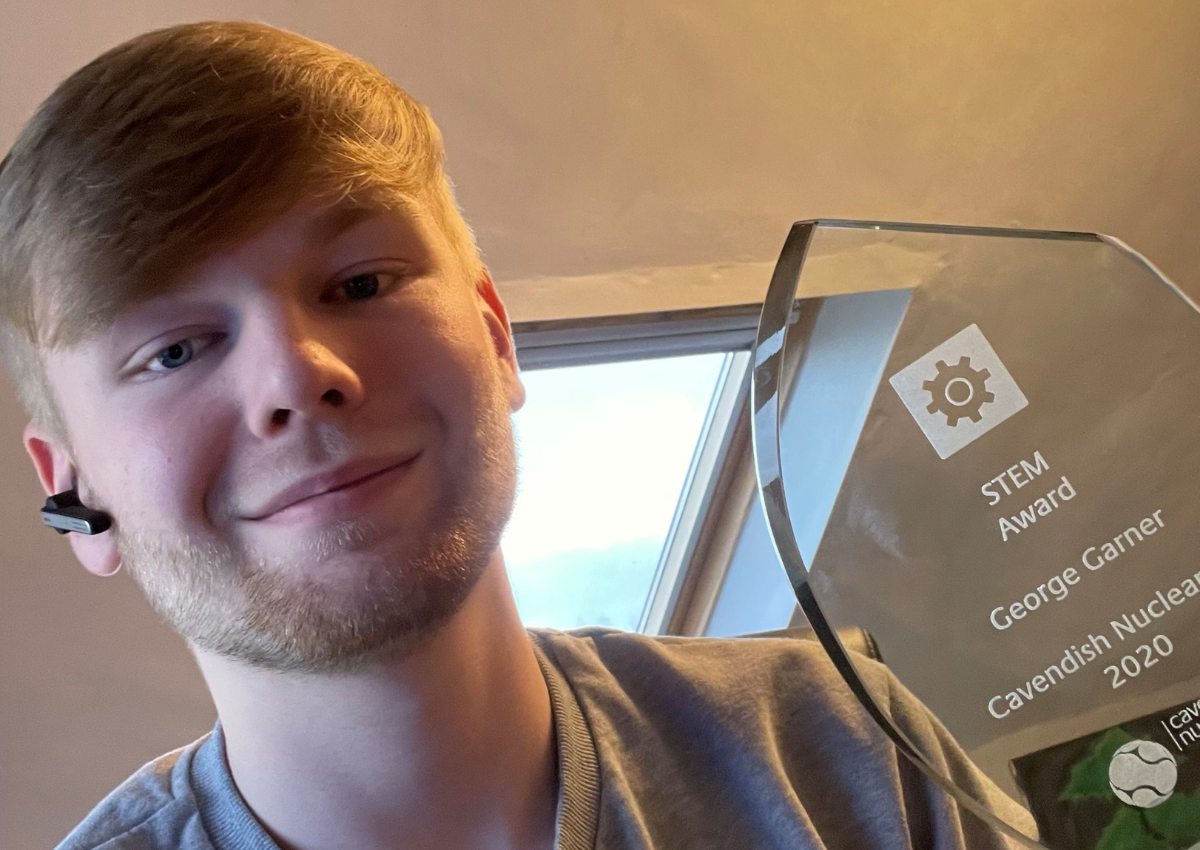 In 2020 George won Cavendish Nuclear's STEM award, and was praised for his contribution to a virtual work experience programme. Not letting the COVID-19 restrictions limit his outreach to young people, he had taken the challenge in his stride. During the height of lockdown, George took on the responsibility of leading STEM for Cavendish Nuclear, first focusing on the development of a virtual work experience programme. Traditionally Cavendish Nuclear would take groups of students for 1-2 week periods on work experience programmes, however, recognising that this could not happen at the moment, George has been working in collaboration with the Northern Nuclear Alliance in the development of a virtual nuclear work experience programme that will be run throughout the rest of this year and beyond. The virtual work experience programme is looking to pilot in November, giving 6-8 students a month's long experience of running their own project set around a real nuclear scenario. 

George has also lead on a number of other STEM initiatives for Cavendish Nuclear during the pandemic. During the first few weeks he created a civil nuclear STEM activity and educational booklet, suitable for all ages and is currently well underway in creating a mentoring programme for local schools and colleges to tap into; this will provide students with the opportunity to access a professional mentor whilst they are studying in higher education. Furthermore, George is currently working with a local university technical college (UTC) to offer tutoring/technical/development sessions where industry experts will provide expertise on their subject matter via face to face or virtual sessions. 

George has not only focused on STEM during lockdown, he has also driven continual professional developed (CPD) for the project professional's early careers community. With support from one of Babcock International's marine graduates, George set up CPD sessions for both Cavendish Nuclear and Babcock employees to help them during these difficult times; these sessions helped to tick of key competencies needed for their apprentice and graduate schemes, along with helping the community to build a wider network. George targeted both internal and external speakers to host these sessions, broadening the community's horizons and improving inclusivity of thought.

Many STEM apprentices also volunteer as STEM Ambassadors. You can find out more about how they volunteer their time to support schools and community groups here. For those looking for more resources to support STEM Careers see here. 
AddToAny