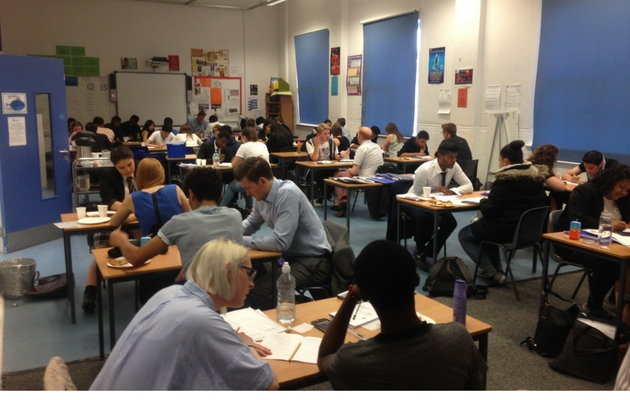 A mathematics mentoring programme piloted by Holloway School in Islington, shows how secondary students can work together with role models to improve their STEM skills and careers knowledge.
James Ohlson, Holloway's Lead Practitioner in Mathematics, started the ten week mentoring programme for Year 11's during the run up to their GCSEs last year, to give students the chance of achieving the best grades possible. Owing to its success, the school has replicated the programme numerous times during this academic year.   
The latest programme which ran from March to June, has seen the largest group of students and mentors yet, with STEM Ambassadors making up nearly half of the 50 plus mentors involved.
"It was really great to see adults who actually use the maths we are learning in their day to day lives. My mentor was really interested and enjoyed the maths we were doing, that helped me do the same." Harry, student participating in the mentoring programme
The STEM Ambassadors programme was able to help the school to find mentors to provide extra support to students across all abilities and help them reach their full potential.
To some students this support could mean the difference between taking the subjects they want at college and having to retake GCSE mathematics again the next year.
"If you can explain something to another person and show them all the steps to solve a problem, or better still guide them to solve the problem themselves, you can both learn something." Cyril Molony, STEM Ambassador and mentor
The school have recognised that although mathematics is the key focus of the programme, it is also helping to increase the number of positive adult relationships the students have. The mentors offer students extra support in developing life skills in communication and work ethics and can offer careers advice.
"Having that adult chat (that's not with a teacher!) is so valuable to so many of our students. I have been truly inspired by the volunteers' generosity each week, offering up their time and experience to something new." James Ohlson, Lead Practitioner in Mathematics at Holloway School
To date, over 2,500 hours of volunteer time have been massed throughout the 25 weeks. There are already plans to run the programme again next year, with the school offering support to teachers looking at setting up their own mentoring programmes.
Find out more
AddToAny