STEM Ambassadors demonstrate the power of science at arts festival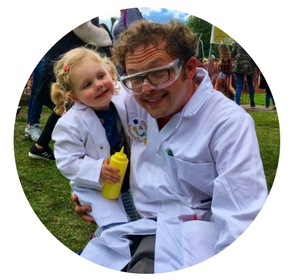 On Saturday 1 July, volunteers from a collective called BrumSciComm delivered science activities to around 800 children at the Cotteridge Community Festival of Music, Art & Dance (CoCoMAD) in Cotteridge Park.  
All of the CoCoMAD scientists are STEM Ambassadors and are committed to getting more young people to enjoy learning about STEM subjects. 
"CoCoMAD was a great opportunity for us to share our passion for science in a friendly and relaxed environment, where science sat alongside art, food and other entertainment, embedded in peoples everyday lives as part of our culture and community and not separate or reserved for only the few." STEM Ambassador Caroline Gillett
At the event, which was funded by the Royal Society of Chemistry, CoCoMAD Scientists carried out a range of exciting and engaging activities including some mind blowing science busking. These interactive demonstrations included the Zeeman's Ropes puzzle, where two people are tied together and have to separate themselves, a science tent where STEM Ambassadors conducted a series of experiments such as testing how much water a nappy can absorb and the Royal Society of Chemistry's Mission Starlight experiment, where the children had to protect astronauts from the effects of harmful UV light. 
"This was a wonderful family friendly festival and it was fantastic to bring science to it for the first time. Our aim as an organisation is to share our love of science with everyone and to do so as creatively as possible. We want to get science out of the classrooms and laboratories and make it part of our culture and community. CoCoMAD allowed us to just that!" Naomi Green, Co-Founder of BrumSciComm
​Taking part in an arts festival was a great chance for the STEM Ambassadors to engage with an audience that are not necessarily drawn to science subjects. It offered an opportunity to show that like other creative activities, science is part of our culture and everyday life. 
 "I think we might have a new scientist in the family thanks to the CoCoMAD Scientists at CoCoMAD!" parent
Find out more 
Share this resource
Press release
If you would like to contact the organisation regarding any press or media opportunities please email marketing@stem.org.uk or call 01904 328300.
Contacting us
If you have any ideas for stories and features on the site please email feedback@stem.org.uk