The joint initiative to name the Polar research ship RRS Sir David Attenborough, involving STEM Learning, received the 'Mark of Excellence' Award at the Chartered Institute of Public Relations (CIPR) Excellence online Awards 2020 in June.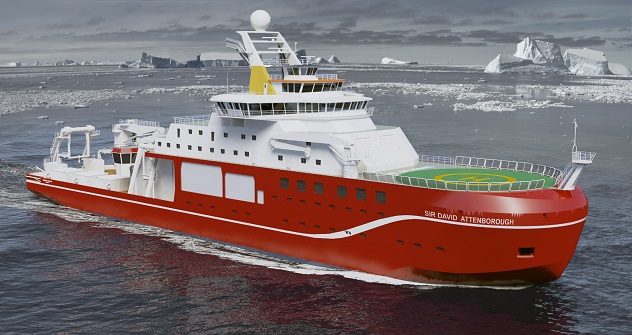 Working alongside the British Antarctic Survey and with funding from UK Research and Innovation (UKRI), STEM Learning used the build, launch and operation of the RRS Sir David Attenborough to bring an exciting new context to the teaching of STEM subjects. The three-year Polar Explorer Programme saw chosen primary schools gain the support of a Polar Ambassador, a specially selected STEM professional, to help enrich the teaching of STEM subjects.
Awarding the Mark of Excellence, judges said: "This was a very creative campaign using the high-profile and public celebration of the new Royal Research Ship to engage young people in STEM subjects and inspire the next generation of designers, engineers, and researchers in polar science. The execution, based on creating partnerships with BEIS and STEM Learning to shape the Polar Explorer Programme, really impressed the judges. The results were spectacular, with over 10,000 primary school pupils participating in the programme, while several million school children had the chance to learn about – and be inspired by – the challenges of polar exploration."
STEM Learning activity included:
The naming of the ship was incorporated into a three-day event (Ice Worlds) at the Cammel Laird shipyard in Birkenhead
Polar Explorer Programme workshops for schools, parents and wider communinity
Pupils from Polar Explorer Programme schools in the area were invited to dress up as penguins for the Penguin March - and some pupils were chosen to meet Duke and Duchess of Cambridge and go on board the ship
Fully equipped with the latest instrumentation for carrying out research, the RRS Sir David Attenborough was launched last September by the Duke and Duchess of Cambridge, with the ceremony attended by Sir David Attenborough himself.
The vessel has improved ice-strengthened capability and greater endurance over existing polar research vessels. This enables scientists and technicians to stay at sea for longer and study the polar environments during the Antarctic and Arctic summer months.
A state-of-the-art robotic subsea vehicle, Boaty McBoatface, is on board RRS Sir David Attenborough allowing scientists to gather data remotely from places where humans are unable to go.
Find out more about:
AddToAny