International Women in Engineering Day is on 23 June, so all this week we are profiling a range of female STEM Ambassadors working in engineering. We spoke to Amanda Shaw from Aecom about her career journey into civil engineering.
What exactly is it that an Engineering Technician does?
My name is Amanda, I am a Senior Engineering Technician, and I am here to tell you how rewarding a career in the world of Engineering can be. I started in the industry 12 years ago, after graduating with a degree in Computer Aided Design at the University of the West of Scotland, back in 2009.  Let's think about the bigger picture. As an Engineering Technician, I work directly with the Engineers and Designers, as well as many other team members in order to develop a concept or idea and bring into reality. 
If we think about a Civil Engineering Technician's job, in its most simplistic term, it is to essentially create an "instruction manual" for constructing a design on site. The manual must contain the specific and complex data and elements in a clear and concise manner for the Contractor to use on site to build from. From the use of Detail Drawings and/or a Model depending on what is required. However, the format must also be clear and understandable for the Client in which you are designing for. This is where 3D Modelling and Building Information Modelling (BIM) comes into play. Technology has allowed Technicians and Engineers to work more cohesively over the years. With the adoption of BIM, it allows the "3D" aspect of my job to be elevated. It enables the Technicians, Architects, Engineers & Contractors to "speak to one another "within one virtual platform. This one platform contains all the information and data from every team member with regards to the project. This ultimately helps to ensure the design is coordinated efficiently and is managed within one central environment, thus creating a realistic virtual vision of the design itself. 
Why Did I Choose a Career in Engineering? 
When I was at school, I wasn't 100% sure what I wanted to do. I knew where my strengths laid; subjects such as Art & Design, English, Maths, Graphic Communications and Computing Studies were subjects that very much kept me interested and felt challenged. Where those subjects would take me was a big question mark, all I knew was I wanted to be a part of something within the creative design industry. 

After I left school I enrolled in an Interior Design Course using CAD software, which really opened my eyes into the creative world of design and technology. I began researching careers in construction and quickly realised engineering is where I found myself drawn to. This led me to apply to UWS for Computer Aided Design as a starting point in my career. I was lucky at this point, to be accepted for a role then with a Civil Engineering Consultant as a Junior Technician based in Glasgow. The rest is history as they say.
What Does it Take? 
From my own experience, I can say that University is a great starting point, however it is not the only way. During my career I have seen many wonderful people begin their careers in STEM from a variety of backgrounds: the workplace, as a school leaver, college graduate, or with an apprenticeship, work based learning and also University. (You are never too late to start throughout your entire career with the right support and commitment!). 

There can be an element of pressure on a younger generation to obtain the right school qualifications for enrolling in the relevant degree for ultimately, the relevant career. But sometimes this method of learning and experience is just not for everyone, and that's okay. So, don't let your past choices stop you from considering engineering as a profession now. For example, one of the Apprentice Technician's in my team is already close to completing his day release HND in Civil Engineering, with the approach of beginning his day release BEng course in the Autumn. This method works in our Apprentice' favour as he gets to experience working alongside Engineers and Technicians as part of a wider team. He is getting hands-on experience in office and on-site, on real and interesting projects as well as receiving the education required to become a chartered engineer within Structural Engineering.
Where Can it Lead You? 
In the 12 years I have been in my job, it has allowed me to work on many interesting projects and has also given me the opportunity to travel and work with many interesting teams of people. 
As a Civil Engineering Technician, I have been part of a host of small and larger scale projects. Two of my most memorable projects include being involved in a large port and jetty structure development, based in Peterhead, Scotland, and working as a Civil Engineering Technician for a large team of designers working on a major transportation and infrastructure project in Stockholm, Sweden.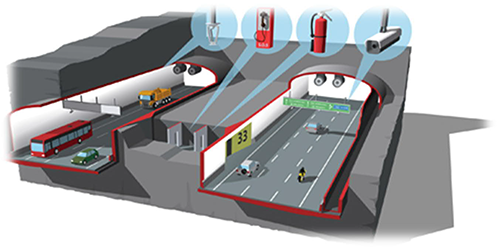 The Stockholm Bypass project consisted of major highway and expressway links, access tracks, tunnels and construction tracks. This was such an interesting project as the impact on the environment was critical as outlined by the client. The client wanted the construction within various sites of the development, to be as economically friendly and as sustainable as possible. I was also given the opportunity to work in Stockholm during this project which allowed me to be a part of the bigger picture. 
For Peterhead Port Authority, they required a Design and Build project consisting of a 120m long suspended quay and mooring dolphin at the Smith Embankment Quay Facility at Peterhead Harbour. I was involved in the development for a 42m walkway to provide access between the quay facility and mooring dolphin. Initially, my involvement included developing 2D detailed design drawings and then creating a 3D wireframe geometry model. This was then input to AutoCAD to prepare a 3D model and the whole process really helped me appreciate the benefits of producing 3D models, how they can expand knowledge on the design itself. This is where my love for 3D Modelling began.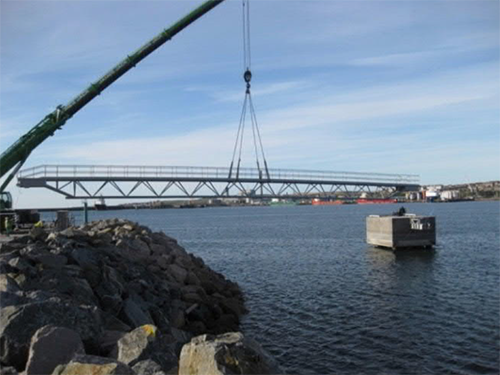 Is it Rewarding? 
With the right drive and attitude towards your career, as well as support from company and managers, you can venture down many avenues of civil engineering. It is a career that will always exceed your expectations and the sky is the limit when it comes to tailoring your career to suit you and find your niche in your job. 
A job in engineering can also be challenging. It's a fast paced industry, ever evolving and competitive, but can also be a highly rewarding career. From watching a project being drafted, to creating and developing a 2D/3D design and model, to your design being physically constructed on site and used by other people, brings great pride and satisfaction. Knowing that you were a part of a team that helped to design and construct that asset is amazing. It is truly a wonderful feeling walking through a site during the construction and build, seeing your design and details being brought to life. 
AddToAny