by GREG DUFFY | Assistant Head Teacher at Allestree Woodlands School
The context of space is a great way to engage children with science and technology, as it links to so many aspects of the primary and secondary curriculum for all year groups. Here, Greg Duffy, a teacher at Allestree Woodlands School, shares his school's experiences of using space-themed projects in the classroom. Allestree Woodlands is a coeducational academy secondary school and sixth form in Derbyshire.
Competitions
Our sixth form students have been competing in the UK CanSat competition for six years now and have had the privilege of representing the UK at the ESA European CanSat Competitions in 2018 (Azores) and 2019 (Italy). The tremendous value for students from experiencing a full space engineering project is difficult to over-estimate. On several occasions, their experience of the competition was key in securing places on apprenticeships at companies like Rolls Royce or STEM-related university courses.
One of our 2018 team members, Tom, said, "The competition allowed us to get a feel for the challenges we may face if we decide to enter the space industry. CanSat got many students involved in STEM-related activities. We've gained insight into project planning, report writing and presenting – all invaluable skills."
Daisy, another past team member, said, "It gave me an insight into working in engineering. The excitement we felt as a team when we overcame challenges and the support we gave each other showed how important team work is. This challenge taught me valuable team working skills. Tasks such as presentations and data analysis helped prepare me for working in the engineering industry."
Daisy is currently studying Physics with Astrophysics at the University of Leeds and hopes to work on satellites or space probes in the future.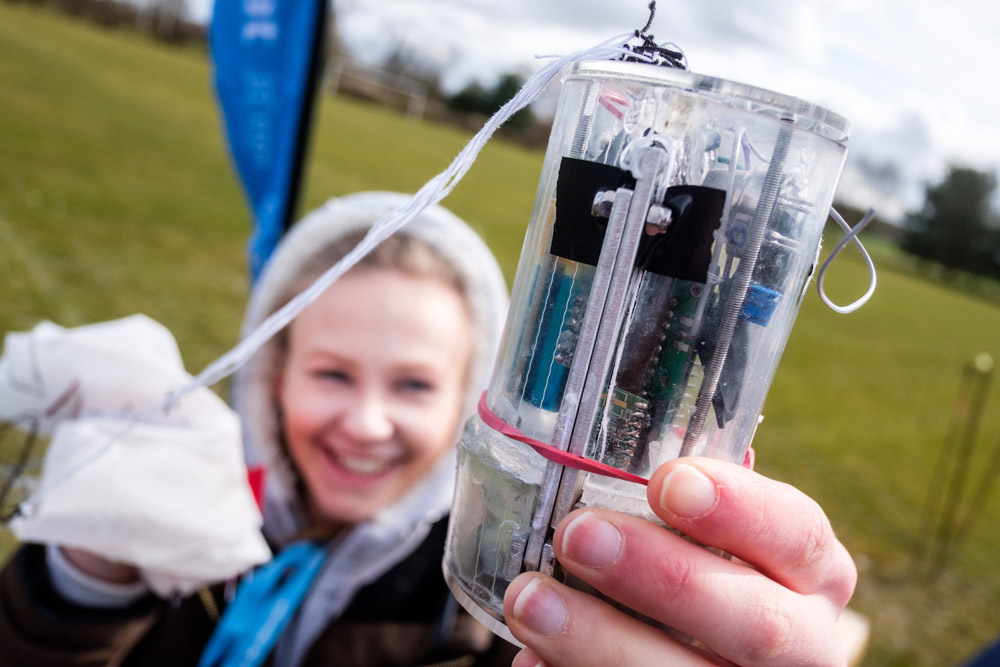 Outreach
Through the outreach aspects of the CanSat competition, we experienced first-hand the dramatic and enthusiastic responses of key stage 2 (age 7-11) children to space and other STEM activities. This, in addition to ongoing links with people in the UK space industry, led our school leadership to support the development of a Reception-to-19 Space Curriculum. The first stage of this was to gain the Space Education Quality Mark (SEQM).
The SEQM is an award given to both primary and secondary schools that have used the context of space to enhance learning across their setting, providing opportunities for exciting and engaging learning by bringing the curriculum to life with interesting links to the real world of space science.
The award criteria acted as an invaluable guide to focus our efforts in developing in-school space and STEM themes throughout the curriculum. The SEQM brought together existing space-themed curriculum activity with new developments created by enthusiastic teachers and support staff. We were delighted to be awarded the SEQM and the plaque and certificate have pride of place in the school visitors' reception (along with the UK CanSat trophies!). There is a real sense of pride across the school community for these achievements.
Our next step was to engage partner primary schools in the SEQM process and the initial development of the Reception-to-19 Space Curriculum. We now have five partner primary schools working with us. Our first collaboration was the transition project 'To the moon', that engaged Year 6 students during the first COVID-19 lockdown and reduced anxiety relating to transition for many students.
The transition project culminated in the construction and launch of water-rockets by our new Year 7s. This event acted as the beginning of the Woodlands Rocketry club that will be building and launching model rockets. The Reception-to-19 Space Curriculum development continues this year with expansion to other primary year groups.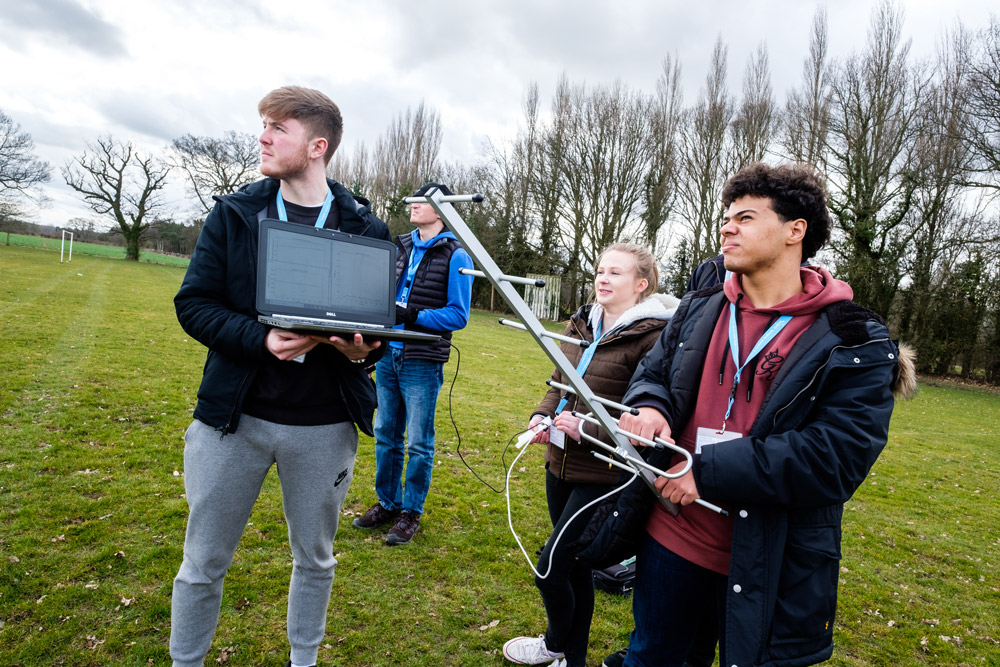 Collaboration with UK space industry
We have established an ongoing collaboration with UK space company Vorticity and our students are working on an ongoing project to explore the potential of non-Newtonian polymers in impact protection for space missions; in particular, sample return missions.
Our students have been greatly motivated by the engagement with a real UK space company and the opportunity to present at space events, where the likes of Tim Peake (ESA), Jeremy Curtis (UKSA), Dr Arrun Saunders (Vorticity), Joanne Wheeler MBE (Space Lawyer) and Tim Tawney NASA representative in Europe) were in attendance.
To the moon!
This chain-reaction of activities and enthusiasm for Space and STEM subjects amongst our students, staff and leadership team can be directly linked back to the inspirational work of ESERO-UK. Seeing the real and significant impact on student engagement, aspiration and achievement through involvement in STEM projects, leads our staff, students and school leadership to an inevitable conclusion; we need more space! To the moon!
Find out more