BY Rachel Collins | Enrichment Project Officer AT STEM LEARNING
In November, the UK will host the 26th UN Climate Change Conference of the Parties (COP26) in Glasgow, the first of its kind in the UK, and the aim of the summit is to bring together world leaders to commit to urgent global climate action. In the run-up to the summit, COP26 will be working closely with businesses, civil society groups, schools and members of the public across the UK as part of the conversation on tackling climate change.
With this in mind, a new Climate Change Education Partnership (CCEP) is bringing together partners from education, research and the wider STEM sector to support climate change-related lessons and activities in formal and informal education settings. The Partnership aims to increase teachers' subject knowledge and understanding, so that lessons are based on scientific evidence and increase students' understanding of the science and implications of climate change. The Partnership will particularly seek to support activities which focus on inspiring and engaging audiences who are underrepresented within the STEM sector and will provide educators with training, resources and lesson ideas, trained volunteers and support for enrichment activities and challenges.
The Partnership currently consists of representatives from the Department for Business, Energy and Industrial Strategy, the UK Space Agency, UK Research and Innovation, the Met Office, the Environment Agency, the Natural Environment Research Council, the Royal Geographical Society and the Royal Meteorological Society.
Through this new programme, young people's knowledge of the science and impact of climate change, as well as their appreciation for research and innovation's impact on society, will be increased. We're also aiming to increase young people's resilience and the number of young people from underrepresented backgrounds who study and engage with STEM subjects in the future.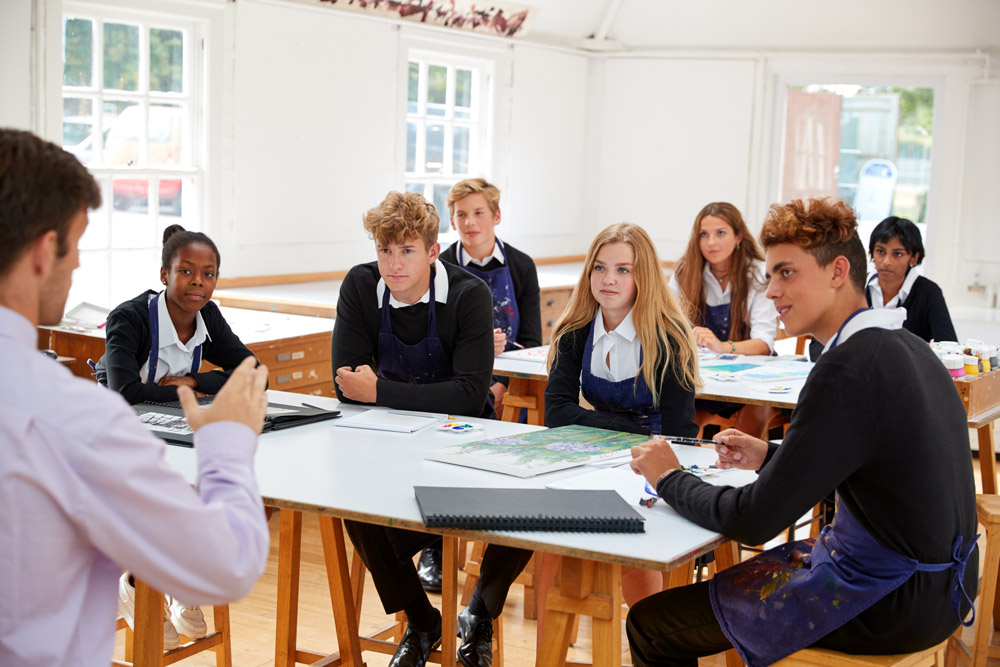 Change the conversation
Many people have already made changes to their lives to help the environment, such as choosing electric cars and buying products with less plastic packaging. In industry, engineers have developed offshore wind farms to power our homes, and businesses have increased investment in energy-saving measures and solar power.
Schools are already taking measures to ensure they're as energy-efficient as possible. When thinking about the energy- saving and environmentally-friendly measures in your school, why not ask your students questions about the environment around them, getting them to think about how these things might be applied in their daily lives and how they might talk about these issues with their families?
are there signs around school to remind everyone to turn off lights and taps?
discuss food waste and what happens to leftover food at lunchtime
is there a way to compost food waste at your school?
discuss how your school is heated and how to make it more efficient
is there a way to use cars less?
are there alternative options to reduce plastic usage in supermarkets?
could we recycle more at home?
what are our clothes made from?
Climate Change resources
Using the context of climate change in your teaching can demonstrate to young people how they can make a positive contribution to climate change.
Grand challenges
Artificial intelligence, ageing society, clean growth and future mobility are set to transform the way we live our everyday lives. We have resources to improve students' knowledge of future career opportunities, the types of STEM skills that are needed and how they can gain those skills.
There's an app for that
Students learn about the effects of waste on the environment and try to find a way to incentivise recycling by designing an app that allows households to log how much material they are recycling each week, where points will be given depending on the amount of recycling that is done.
How can Biology and Chemistry fight for Climate Change?
Students generate and share ideas about how STEM can help solve a key challenge or answer a big question about the future, particularly as it relates to climate change.
Extreme survivors
Investigate extremophiles to see what qualities allow them to live in extreme conditions.
Imagining the future - making plastic out of a potato!
Students create a bioplastic from potatoes and discuss the implications of replacing traditional plastics.
Find out more
This year is being hailed as the year of climate action and our new schools programme will support climate change-related lessons and activities in formal and informal education settings. Let us know what specific support you would like in your school via climate@stem.org.uk