Maths resources for home learning
How best can you support your children outside of school? Whether a parent, carer or home school educator, there are a variety of maths games, activities and puzzles that can be used to support children's mathematical education from home.
Maths activity calendar
A selection of resources, all of which are completely free, to help stimulate the learning of mathematics at home. There are resources for each day of the term - please feel free to follow our guide or to dip in and out, selecting the activities most suitable for you and your children.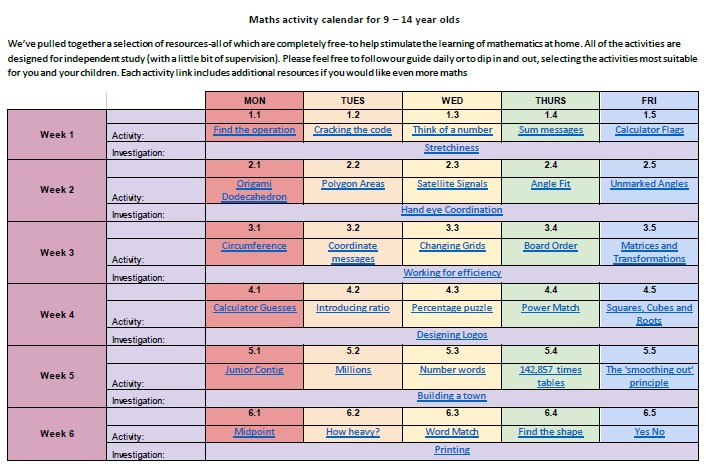 Home learning resources by topic
 
Probability and statistics
SMILE resources
One starting point when considering resources that can be used independently by students is the SMILE collection. During the 1970s and 80s, the Secondary Mathematics Independent Learning Experience (SMILE) developed a wide range of mathematics activities, games and puzzles designed so students could explore and enjoy mathematics.
Some of the resources look a little dated but don't let that put you off. The mathematics activities are interesting, rich and will definitely make students think.
Space and shapes 

Handling data 
STEM resources and NRICH activities
STEM Learning and NRICH have teamed up to link favourite activities from the NRICH website with resources on the STEM Learning website.
Number

Algebra

Geometry and measure

Handling data
Cre8ate Maths - activities for 11-16 years olds 
The activities below are from the Cre8ate Maths collection, exploring how school mathematics is used in different industries. Each activity includes teacher notes which cover any materials required and explain the mathematics involved. The complete collection can be viewed here, but we've selected some of the best for home learning:
Maths resources for teachers
A list of useful websites and organisations that teachers may find useful when planning lessons for their students.
See our community group for more ideas and resources. You can also ask questions , post replies or share your own resources.
Page last updated: 28 April 2020