Tim Peake - space resources and inspiration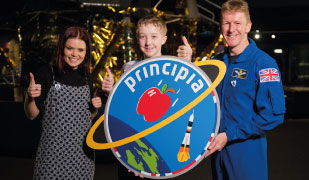 ESERO-UK offers support and resources to enable teachers to use Tim Peake's space mission in the classroom, to inspire pupils for generations to come. 

 
Train like an astronaut with the Mission X space class 2018
Registration for Mission X: train like an astronaut 2018 is now open.
This worldwide educational initiative is supported by ESA, NASA and the UK Space Agency to encourage healthy and active lifestyles among children.
Mission X takes place between January and March 2018, schools who register for the challenge will receive a Mission X astronaut training guide and stickers, and an invitation to take part in online CPD linked to the science activities. Primary and lower secondary school students will learn the principles of healthy eating and exercise, and earn points by finishing training modules. The resources and activities will be linked to the science and PE curriculum.
Register using code PAOLO2018
Find out more about Tim Peake and follow him on social media:
 
Visit the ESA image gallery to find photographs of Tim Peake which you can download
All resources
Get involved
Find out more and register your interest.

Primary, computing, D&T, Mathematics, science

Use images taken from satellites to become a space detective!

Primary, Secondary, Science, Mathematics, Computing

The count down to the Principia space mission has begun. Will you become a space apprentice for Tim and help him make this mission a success? Sign up to be part of the adventure.

Primary, Literacy, Science, Mathematics, D&T, PE

Help discover what growing plants in space can teach us about life on Earth.

Primary, Secondary, Post-16, Biology, Science

Tune into the webcasts from schools who have been awarded direct radio link ups with Tim.

Primary, Secondary, Post-16

Using the unique microgravity facilities on board the ISS to teach fundamental aspects of physics and chemistry, using experiments and demonstrations that are impossible to conduct on Earth.

Secondary Physics, Mathematics, Chemistry

A chance for students to devise and code their own apps or experiment to run in space.

Primary, Secondary, Post-16, Computing, D&T

You don't have to become an astronaut to work in space.

Primary, Secondary, Post-16, Computing, D&T, Mathematics, Science

Workshops from Science and Discovery Centres across the UK.

Primary, Secondary, Physics, Biology, Chemistry,Computing, D&T, Mathematics

Watch the replay of the live link between 300 children and Tim Peake.

Primary, Secondary, Science

Activities about solar power and atmospheric chemistry, linked to Tim Peake's flight to the ISS.

Secondary, Post-16, Chemistry, Physics, Earth Science

.

Put your questions to the team behind Tim's mission with online, live chat.

Primary, Secondary, Post-16, Computing, D&T, Mathematics, Science

Engaging resources themed around the ISS.

Primary, Secondary, Post-16, Computing, D&T, Mathematics, Science

Make a short film around the theme of space and exploration, selected films will be screened in space where they will be viewed by Tim on-board the ISS.

Primary, Secondary, Post-16 

Find out how to train like an astronaut.

Primary, secondary, PE, science, biology


Join One Giant Read and explore a showcase of the best science fiction writing and poetry and learn of the incredible science facts it has inspired.

Primary, Secondary, Post-16 Literacy

Challenge students to run, swim, cycle, climb, dance or exercise the 400 km distance from the Earth to the ISS orbit.

Primary, Secondary, Post-16, Biology, Chemistry, Physics, D&T, Mathematics, Careers

Gain recognition for your school for using the context of space in STEM subjects.

Primary, Secondary, Post-16, Computing, D&T, Mathematics, Science

Monitoring radiation levels on the ISS.

Secondary, Post-16, Physics

Join this interactive, space science adventure with science-based challenges for students.

Primary, Science, Mathematics

Design a dinner for Tim to eat in space.

Primary, Secondary, Biology, Food Technology, Science

A free, downloadable guide to becoming an astronaut, full of funny and fascinating insights, plus a personal message from Tim Peake.

Learn the science of space through the science of reading.

PRIMARY, SECONDARY, LITERACY

A programming competition where the robots are SPHERES inside the ISS.

Secondary, Post-16, Physics, Computing