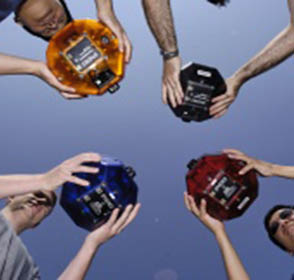 Zero Robotics is a computing competition that is, literally, out of this world. Organised by the Massachusetts Institute of Technology (MIT) and NASA, and welcoming entries from ESA member states (including the UK), it offers secondary school students the chance to solve space challenges and control robots on the International...
Filter by Subject
Filter by Age
Get our eNewsletter
Sign up for free by registering for an account and make sure that you select the eNewsletter tick box.
STEM Learning magazines
Our insightful magazines contain interviews, features, news, and tips on teaching and learning in STEM-related subjects.
On 6 March 2018, ESERO-UK is holding a workshop focused on the development of new teaching resources linked to Earth Observation.If you're a geography or computing teacher, this is your chance to influence the development of resources on a national level.Researchers from the School of Earth and Environment at the University of Leeds will be...
L-Zone are holding their annual competition to find the best Minecraft model of the Sentinel-3 or Jason-3 ocean-monitoring satellites.Alternatively your students can get creative and design their own custom satellite or ocean monitoring system.For the first category, entrants will be provided with 3D views of the Sentinel-3 and Jason-3 satellites...
Press release
If you would like to contact the organisation regarding any press or media opportunities please email marketing@stem.org.uk or call 01904 328300.
Contacting us
If you have any ideas for stories and features on the site please email feedback@stem.org.uk