Reaching for the stars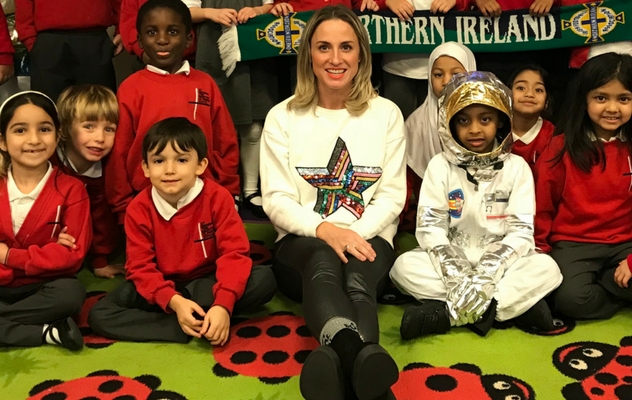 How one teacher's journey to bring space into the classroom led her to be recognised by the Royal Astronomical Society.
Jenny Lister is a primary school teacher at St George the Martyr Primary School in London and has recently been awarded the Patrick Moore medal from the Royal Astronomical Society.
We chatted to her about how she has used the context of space to engage her pupils with the world of STEM.
Why did you decide to take part in the Tim Peake Primary Project?
I wanted to take part in the Tim Peake Primary Project as all the children were knowledgeable and excited about Tim Peake's time in space. I was also working towards my first Space Education Quality Mark – I got silver!
The project gave me inspiration and resources to create my own programme of tasks for key stage 1 and subsequently inspired me to do other astrophysics based initiatives throughout the school.
What space-related activities have you done in school?
In school, we have studied the story of Hidden Figures, highlighting black history alongside space history. We created an exact replica of what the star constellations would have looked like at the precise moment Alan Shephard took off after Katherine Johnson came up with her trajectory, using our fingerprints as the stars.
We have had star-gazing sessions, after-school in pyjamas with space stories, hot chocolate and binoculars loaned from the Royal Astronomical Society.
We had a whole-school competition of 'Guess my NASA job', where two teachers pretended they worked in NASA and the children had to guess what they did (the jobs were cleaners and seamstresses).
The whole school took part in an engineering project and showcased in an engineering exhibition to family and friends. 
As part of the Mission X project, we are all training like astronauts. The children have been learning the things required to be astronauts – teamwork, fitness and healthy eating to name a few.
What's next?
We regularly follow space news and keep up-to-date with what is going on. This term, the key stage 1 children will be meeting Suzie Imber, winner of the BBC Two programme - Astronauts: Do You Have What It Takes? We will also be taking part in a special range of activities at the Royal Astronomical Society.
What my space lessons do is include all children, regardless of age, gender, race or religion. There are no barriers and all children are excited, engaged and feel a sense of achievement. Science and space are for everybody and I want to make sure my pupils realise that.
Find out more