Climate Detectives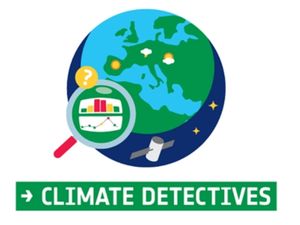 Climate Detectives is a European Space Agency initiative that tasks teams of young people to work with real climate data.
For the first time, ESERO-UK is excited to announce that there are two ways young people can take part.
Climate Detectives UK – open for registration!

Climate Detectives UK is a spin-off of the ESA Climate Detectives challenge, running for the first time this year. The competition is open to 11-14 years old.

This shorter, more focused programme challenges participating teams with answering questions in one of several proposed research areas, using a range of tools and data carefully curated by ESERO-UK with the help of climate experts at the Met Office.

Registration for this challenge closes on 28th October.

ESERO-UK invites teachers and teams of students, between the ages of 8 and 15, to team up and join the ESA Climate Detectives school project.

Teams of students, supported by their teacher, are called to make a difference by identifying a climate problem, investigating it by using available Earth Observation data or taking measurements on the ground, and then proposing a way to help reduce the problem.

Registration for this challenge closes on 25th November.
Supporting Resources
Teachers and teams taking part in either challenge can make use of a specially curated collection of resources to inspire ideas, reinforce learning, or take things a step further.