Tim Peake update - water ping pong and frozen poo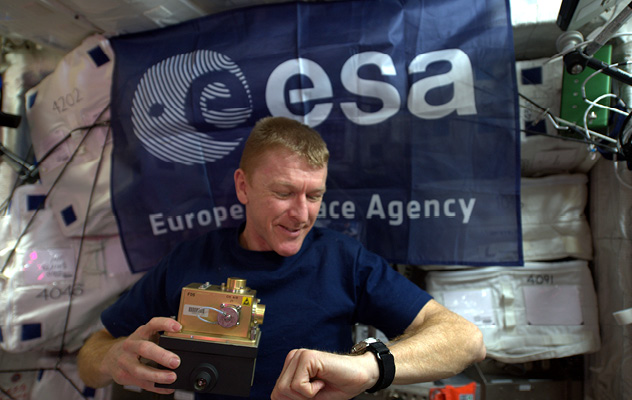 Did you miss the Cosmic Classroom event? It's worth catching up on - Tim can be seen spinning around and playing water ping pong with hydrophobic bats! Tim has also been hard at work on the station; he assisted in the Russian space walk to retrieve the EXPOSE-2 equipment from the outside of the station.  This experiment has exposed microorganisms to the harsh conditions of space, to see whether they can survive.  This will help scientists to understand more about where life can survive in the solar system. He has also been involved in the NASA Fine Motor experiment, Skin-B experiment, Space Headaches study and installed a sensor in ESA's Columbus laboratory where it will measure vibrations in the module to prepare for one of the most sensitive atomic clocks in the world. He also got to watch the Six Nations match between England and Scotland, but not before he had collected a stool sample to put in the freezer for the Japanese Multi-omics experiment, which looks at how space affects the 'good bacteria' inside astronauts bodies. Tim is already close to completing one third of his time in space. How time flies! 
Ed is on
Astro Pi Ed has been switched on.  Ed is one of the Raspberry Pi computers, with a special Astro Pi sensor board, that was sent to the ISS.  Ed has a visible camera, and Izzy has a near infrared camera. Astro Pi Ed has started running the Crew Detector Code, written by children from Cranmere Primary School, who were one of the winners of the Astro Pi competition last year.  Check out this Raspberry Pi foundation animation.
Rockets, rock music and looking at rocks
The last few weeks have been an exciting time for schools learning about Tim's Mission. One of our project schools was lucky enough to be chosen to attend the Cosmic Classroom Live Link at the World Museum in Liverpool. Others have been learning about life in space, designing rockets, creating compositions in music, analysing Martian soil, learning about human impact on the Earth and testing which materials are suitable for a satellite.
Here are some of the posts from the Tim Peake Primary Project community:
 "Each child in Chapter House School 5W class submitted a video of their Tim Peake question to the Cosmic Classroom competition and won! We were lucky enough to be one of the eleven schools selected to join the Live Link in person at the World Museum in Liverpool. Two of our children appeared in a filmed interview on ITV Calendar News. It was an unforgettable experience for us all!"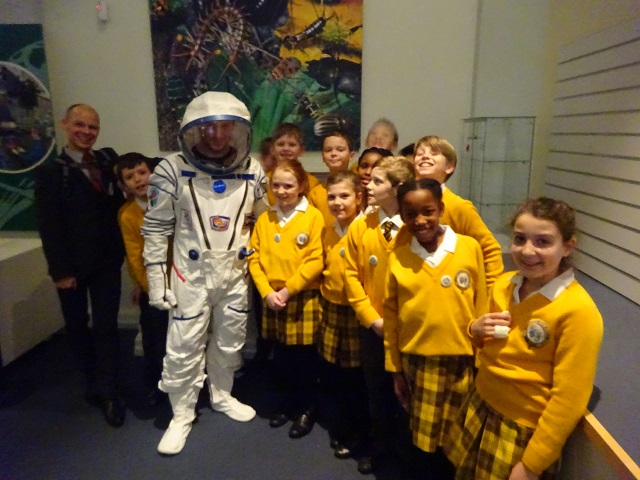 "Robin Mobbs, our Space Ambassador visited and managed to enthral 320 children for over an hour with his tales of life in space. Volunteers helped to demonstrate some tricky concepts such as gravity and how the ISS stays in orbit."
"What a fabulous day we had today at Hartford Manor Primary School. STEM ambassadors Roger & Dave joined us as we built and fired rockets with 52 Year 2 children. We also had two extra visitors today: Tim Peake and the Sokol spacesuit."
"We had a wonderful day at New Ford Primary in Stoke teaching two year 5 classes about Martian soil. Their knowledge of space was excellent and they particularly enjoyed carrying out the investigations. Lots of scientific discussion took place and the session was rated by the children as 'the best science they had ever done."
"Year 5 are having a brilliant time with the Space Case.  I saw this at a Space Conference in York a couple of years ago and wanted to try the activities. Whilst carrying out the activities, the children used iPads to record the steps they took and they are going to use Pic Collage later today to write what they found out."
"Wow! What a morning we've had with Sue Andrews testing and experimenting Martian soil. The children were exposed to so many cross curricular skills and were so enthused by the challenge they faced, to decide which sample was most like Martian soil."
"Fantastic Space to Earth Challenge Day with the British Triathlon Trust. Shrubland Street kids cycled and ran over 500km with some help from our friends at St Patrick's primary and Clapham Terrace Primary. We also had a Sokol space suit visit us for the day."
"It's great to see the Edge Hill University teacher training students using and developing their own Tim Peake-inspired resources following our training session together."
"The Year 2 pupils are currently creating their own space rocket at school using chicken wire and Modroc and designing space suits. They drew pictures of their rockets and the top 3 were chosen and the winning design is currently being created."
Coming up this month