Best Evidence Science Teaching
The best teaching draws on the best evidence.
Amid increasing calls for evidence-based practice in classrooms, science teachers' lives are usually too busy for them to comprehensively access and implement the best evidence we can find emerging from education research.
 
Best Evidence Science Teaching (BEST) is a large collection of free resources for secondary school science. The resources have been developed from the best research evidence we can find on common misunderstandings in science, effective diagnostic questioning and formative assessment, constructivist approaches to building understanding, and effective sequencing of key concepts. The resources are developed by the University of York Science Education Group. The Salters' Institute has been proud to fully fund the BEST project since it began in 2016. The Institute of Physics is now a co-funder of BEST, having supported the project since 2021.
Research evidence-informed progression toolkits for key concepts in science provide:
appropriately-sequenced steps for learning progression
diagnostic questions to reveal preconceptions and common misunderstandings
response activities to challenge misunderstandings and encourage conceptual development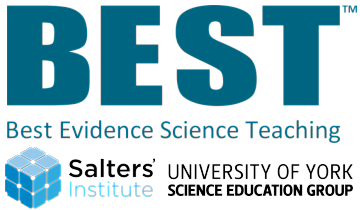 The BEST resources (age 11-16)
Is there a recommended teaching order?
The BEST resources can be used with your existing scheme of learning, if desired.
However, research evidence on learning pathways and on effective sequencing of ideas has been used to develop maps that can help with curriculum planning. The maps show how understanding of the 15 big ideas listed above can be developed through key concepts, organised into teaching topics. The maps present possible routes for progression through a five-year curriculum in science for age 11-16.
Publication of resources
The BEST resources are developed based on careful consideration of the best research evidence we can find on learning pathways, common student misunderstandings, and effective teaching approaches.
All resources for age 11-14 have now been published. Resources for age 14-16 are being published on a topic-by-topic basis throughout 2021 and 2022.
Follow @BestEvSciTeach on Twitter to find out when new topics have been made available.
Further information
Read more about how BEST can help you develop evidence-based practices in the classroom, using research-informed resources to test and consolidate students' understanding of key concepts in science.
Usage guidelines
All Best Evidence Science Teaching (BEST) resources are © University of York Science Education Group. The resources are distributed under a Creative Commons Attribution-NonCommercial (CC BY-NC) license.  For further information please read the BEST Usage Guidelines and FAQs document.